Now, I want to tell about a Indonesia movie with entitled "Hasduk Berpola". Maybe some of you will be wondering what movie is or why this movie have a strange title and why the title of this movie not familiar in your ears.
Hasduk (Kacu Pramuka Putra)
Before I tell about this movie, I will explain what is "Hasduk". Hasduk is a special scout tie for men. Hasduk in Indonesia better known "Kacu Putra" because that specially for boys, This is a picture of hasduk ----------->
Now let's talking about the movie. I know this movie from Calvin Jeremy when he come to my school for promoti his event, "Java JAzz Festival 2013". A simple description from Calvin made me interested and want to watching the story of this movie. And on Thursday, March 14th, 2013, a teen magazine, GADIS call me and invite me to join their event, "watching together Hasduk Berpola". I accept the invitation and now let's see my review about this movie
Hasduk Berpola itself is a family movie that raised the issue of nasionalism and patriotism of Indonesia. The film directed by Harris Nizam is based on a short story with same title, "Hasduk Berpola", written by Bagas D. Bawono, an architect who is also an active writer. Meanwhile, the initial idea of making this film comes from a short story that tells Bagas Dwibawono disappointment at the plenary session of 2009. According to him, at that time the President forgot to sing Indonesia Raya. Actually before Harris made this movie, the story of "Hasduk Berpola" have a short film with duration of 10 minutes and 45 minutes. While the script was written by Bagas and Kirana Kejora. Although it looks like a heavy movie, but both are trying to bring the story from the perspective of children.
Not only that, Harris admitted that he had the support of the Mayor of Surabaya and Bojonegoro regent while filming it. But support is not in the form of a sum of money that Harris film as a vehicle to avoid politics. For the cast involved, the film took a seasoned actor as well as a violinist
Idris Sardi
,
Iga Mawarni
,
Ranti Purnamasari
,
Calvin Jeremy
,
Petra Sihombing
,
Alisia Rininta
,
Meitha Thamrin
and young stars from Bojonegoro, like
Bangkit Prasetyo
. Harris deliberately done to involve a new star to the East Javanese accent.
Harris, who previously successfully made a movie "Surat Kecil Untuk Tuhan" expressed his fear when the Indonesian people can not make sense of these two things. According to him, Indonesia will be destroyed when two crucial things were forgotten. The director Harris Nizam, reluctant when called 'pretentious nationalist'.
"Not just the process. I wish we could also interpret the red, white and Indonesia Raya song. Because this is the simplest way to appreciate the people and the country" said the 29-year-old director.
The shooting began on June 7th, 2012, and take approximately 35 days, with most location take in Bojonegoro, East Java. This movie duration
+
100 minutes. At first these movie will be released to coincide with Memorial Day on 10 November. But delayed and will be released simultaneously in Indonesia on Thursday, March 21, 2013.
The movie depicts the struggles of a veteran soldier famous young at risk his life for the sake of the nation and the state at the time of independence, it was not worth it. The soldier is named Masnun, though as a hero but Masnun life story is very concern. In Surabaya, the supposedly famous as known as the city of fighters, living Masnun often hailed as a hero instead terlunta are displaced. Yeah! Very ironic.
With his daughter, Rahayu, widow with 2 children (Budi and Bening), finally gave up, and moved to his hometown, Bojonegoro. Wish life could be improved. But the life of the famous old soul as living witnesses of events in Surabaya torn flag, even worse off.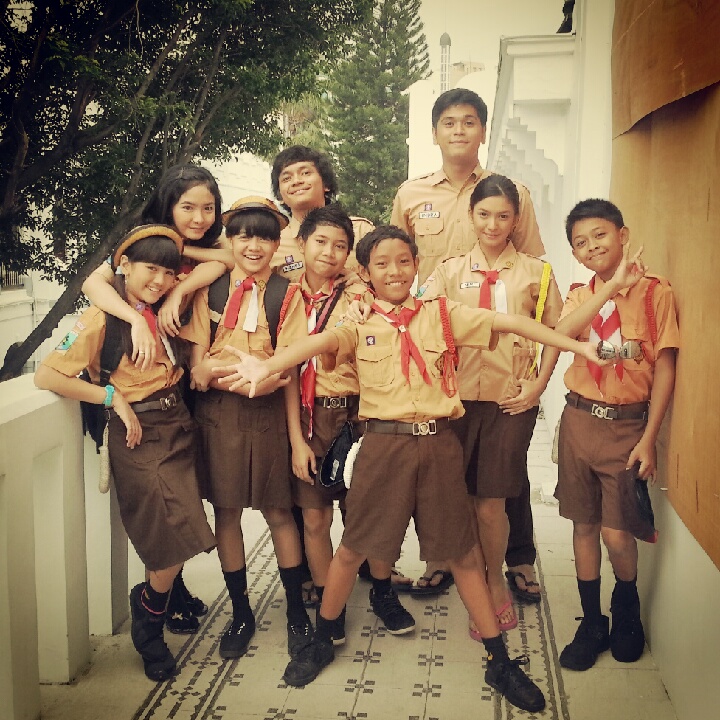 Cast of Hasduk Berpola
The grandson, Budi (12 years), were challenged to beat his rival, Kemal, who was active in the scouts. So he was also trying to follow the activity. But because financial conditions do not allow, Budi could not buy all the equipment scouting as hasduk and baret (scout hat). This movie tells how Budi struggling to meet its obligations, until finally making Bening (10 years) sister who was willing to sacrifice for the sake of her favorite bed linens made ​​hasduk for her brother. The film also tells how the struggle of a grandson to his grandfather that the grandfather can live in peace.
Hasduk Berpola into a simple movie full of moral messages and nationality is covered by a very thrilling scenes of the Indonesian nationalism. Harris hopes the message of nationalism to keep state-owned assets of the nation and must be preserved. For children, he hopes to grow the the spirit of nationalism to make Indonesia better than now .
"Corruption and conditions are not known very detrimental to the nation and through the film is expected to foster a sense of nationalism for the kids also have an impact," he said.
According to Iga, Rahayu starring in this movie, Hasduk Berpola full of meaning that is able to educate and show the nationalism of the nation.
"Hopefully from this movie, children can learn to appreciate the process of achieving something," said Iga. "Hopefully, this movie can inspire young people so that they know what to do for the nation," added Iga.
Well, you can meet and greet with their cast in your city :D (see the picture for the information)
"Hard work will produce the best. Never give up if you want to success but keep your nationalism soul in your body" _ #AnisaQuote.<3